Click on any eulogy link to view that eulogy.
Click on "Post a new eulogy" to add your own eulogy to Brian.
Other important links:
Brian Matthew Bunting
West Point, 2002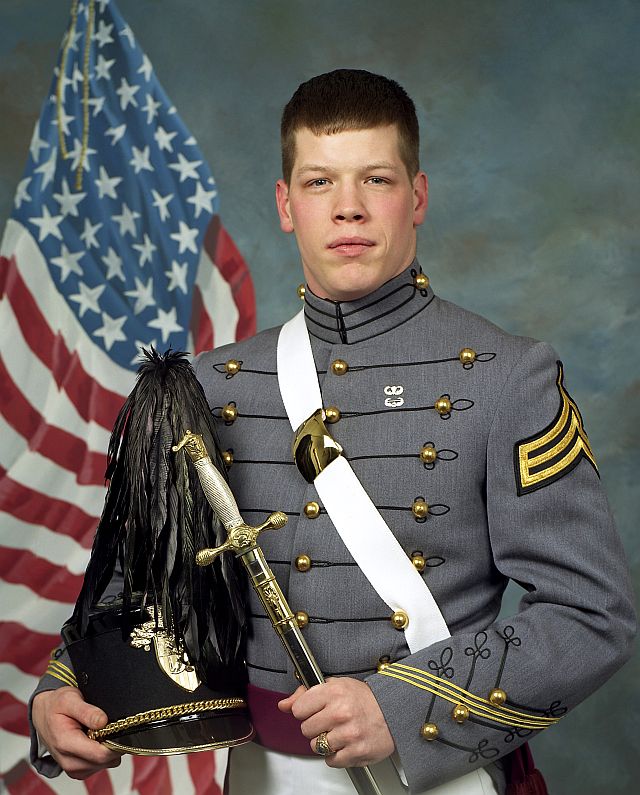 Be Thou At Peace
To date, 83 eulogies have been posted for Brian. Post a new eulogy to share some memories and thoughts that you may have. Additional biographical information may be found on the personal home page.
| Subject | Name | Date Posted |
| --- | --- | --- |
| Personal Eulogy | Chris Widell | July 1, 2018 |
| Personal Eulogy | MSG Jacqueline Beach | March 24, 2009 |
| Personal Eulogy | James R. McDonough | March 19, 2009 |
| Personal Eulogy | DANA | March 18, 2009 |
| Personal Eulogy | Holly Greer | March 17, 2009 |
| Personal Eulogy | Jerry Napolitano | March 12, 2009 |
| Personal Eulogy | Mary ('03 & '06 mom) | March 11, 2009 |
| Personal Eulogy | Tony Wills | March 6, 2009 |
| Personal Eulogy | Gary Bartels, Jr. | March 5, 2009 |
| Personal Eulogy | CPT Thane Startzell | March 5, 2009 |
| Personal Eulogy | Miles Baker | March 4, 2009 |
| Personal Eulogy | SFC David A. McCoy | March 4, 2009 |
| Personal Eulogy | The Mikstas Family (2009) | March 3, 2009 |
| Personal Eulogy | David H. Clemm | March 2, 2009 |
| Personal Eulogy for "Crazy Horse 6" | David Perkins | March 2, 2009 |
| Personal Eulogy from a Class of '69 Company F-2 member | Patrick Neeley | March 2, 2009 |
| Personal Eulogy | Shirley Olivieri-Mathies ('05 parent) | March 2, 2009 |
| Personal Eulogy | Melinda White | March 2, 2009 |
| Personal Eulogy | Francis S. (Frank) Garofalo, granddad of 2009 Firstie | March 2, 2009 |
| Personal Eulogy | Ryan Simonson | March 2, 2009 |
| A "Better Man" | John Lucas, F-2, 1969 | March 2, 2009 |
| Personal Eulogy | Jim Webb '65 | March 2, 2009 |
| Personal Eulogy | Crystal Lyons mother 11 | March 2, 2009 |
| Personal Eulogy | CPT Michael Ramsay | March 2, 2009 |
| Personal Eulogy | Bev Kinley | March 2, 2009 |
| Truly Sorry | Jared Cameron | March 2, 2009 |
| Personal Eulogy | Stewart Olson '69 | March 1, 2009 |
| Personal Eulogy | Matthew Minear | March 1, 2009 |
| We will miss you... | Ro Clemente | March 1, 2009 |
| Personal Eulogy | Cynthia and Michael Causbie | March 1, 2009 |
| Personal Eulogy | Anne Wallen--parent '09 | March 1, 2009 |
| Personal Eulogy | Kathryn-parent 2010 | March 1, 2009 |
| You are in our prayers and thoughts | Andra Kai Shaw | March 1, 2009 |
| Personal Eulogy | Michele Swicegood | March 1, 2009 |
| Personal Eulogy | Janet & Greg Temas - parents of 2010 | March 1, 2009 |
| Personal Eulogy | winnie pritchett | March 1, 2009 |
| Personal Eulogy | Derek Rogers | February 28, 2009 |
| Personal Eulogy | Matt and Colleen Joosten | February 28, 2009 |
| Personal Eulogy | Jeff Painter | February 28, 2009 |
| Personal Eulogy | Andrew B. Canfield | February 28, 2009 |
| Personal Eulogy | Matt Mason | February 28, 2009 |
| Personal Eulogy | Becky Harrison, mother 04, 07, 12 | February 28, 2009 |
| Personal Eulogy | Alexis C. Jung | February 28, 2009 |
| Personal Eulogy | Rick & Sue Due | February 28, 2009 |
| God Bless | Toni Casciato | February 28, 2009 |
| Personal Eulogy | Carolyn Lee | February 28, 2009 |
| Personal Eulogy | Joseph W. Adamczyk | February 28, 2009 |
| Personal Eulogy | CPT Matthew Cox | February 28, 2009 |
| Personal Eulogy | Tom Kuchan - 2012 Parent | February 27, 2009 |
| Personal Eulogy | Jeff Kinley | February 27, 2009 |
| Personal Eulogy | Milton Waldoff | February 27, 2009 |
| Personal Eulogy | Lore Wiseman | February 27, 2009 |
| Personal Eulogy | Shani Thompson | February 27, 2009 |
| Personal Eulogy | John & Elizabeth Perkins '06 parents | February 27, 2009 |
| Personal Eulogy | Amy Morse | February 27, 2009 |
| Personal Eulogy | Tony and Joan Kunz - '09 parents | February 27, 2009 |
| Thinking of you | George and Donna Patten | February 27, 2009 |
| Personal Eulogy | Charles & Carol Grevious - 2007 parents | February 27, 2009 |
| Thoughts and Prayers | Lisa Murphy | February 27, 2009 |
| We are sorry... | Vagnozzi family | February 27, 2009 |
| Personal Eulogy | CPT Sharon Engelmeier '02 | February 27, 2009 |
| Personal Eulogy | Marlene Wilburn | February 27, 2009 |
| Personal Eulogy | Mary Simonis 2003 parent | February 27, 2009 |
| Personal Eulogy | Beth & Jim Kennedy 06 parents | February 27, 2009 |
| Personal Eulogy | K.Landis | February 27, 2009 |
| Dear Bunting family, | Mr&Mrs.Bennett ~ 2012 parents | February 27, 2009 |
| Sympathy | Jeffrey R Madsen | February 27, 2009 |
| Personal Eulogy | Charles Finnegan | February 27, 2009 |
| Personal Eulogy | Kathryn ~08 Parent | February 27, 2009 |
| God Bless Brian and Family | Dave and Karyn Kumlien | February 27, 2009 |
| Personal Eulogy | Sharon Graham | February 27, 2009 |
| Personal Eulogy | Stan Brown | February 27, 2009 |
| Personal Eulogy | Linda Jones - '09 | February 27, 2009 |
| Personal Eulogy | Sherry Parker, Dana Parker '10 | February 27, 2009 |
| Personal Eulogy | Richard and Deborah Nifong | February 27, 2009 |
| Personal Eulogy | Carol and Patrick Carier | February 27, 2009 |
| Personal Eulogy | Pam & Dennis Desilets | February 27, 2009 |
| Personal Eulogy | Jeanette Grayeb-Mihal | February 27, 2009 |
| Personal Eulogy | Joanne Connolly Gerard '11 | February 27, 2009 |
| Personal Eulogy | Toni Graves Whitten | February 27, 2009 |
| Personal Eulogy | ann johansmeyer | February 27, 2009 |
| Personal Eulogy | Paul Kim | February 27, 2009 |
| Personal Eulogy | Eric Gust | February 27, 2009 |