Click on any eulogy link to view that eulogy.
Click on "Post a new eulogy" to add your own eulogy to Timothy.
Other important links:
Timothy J Moshier
West Point, 2002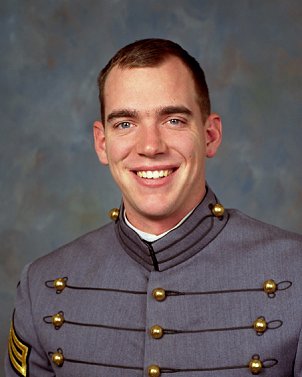 Be Thou At Peace
To date, 74 eulogies have been posted for Timothy. Post a new eulogy to share some memories and thoughts that you may have. Additional biographical information may be found on the personal home page.
| Subject | Name | Date Posted |
| --- | --- | --- |
| Personal Eulogy | Linda Bryant | April 2, 2015 |
| Personal Eulogy | Linda Bryant | April 3, 2013 |
| Miss you buddy | Tricia LeRoux Birdsell | March 31, 2013 |
| Personal Eulogy | Linda Bryant | April 2, 2012 |
| Remembering Always | Todd's Dad | June 6, 2011 |
| Personal Eulogy | Alan Kordzikowski | May 14, 2011 |
| Always in our thoughts and prayers | Paul and Cathy Hasbrouck | April 25, 2010 |
| Thinking of you | Linda Bryant | April 1, 2010 |
| Three years | klg | April 1, 2009 |
| A Plebe Remembers - Favor | 1LT Jason Hillman | October 18, 2007 |
| Never Forgotten | Matthew Minear | September 14, 2007 |
| Personal Eulogy | CPT Barry E. Wiley II | June 25, 2007 |
| You are missed dearly | Tricia LeRoux Birdsell | April 12, 2007 |
| Miss You Timmy! | Sam | November 27, 2006 |
| GO Ducks | John Sharkey '04 | September 29, 2006 |
| GO Ducks | John Sharkey '04 | September 29, 2006 |
| Personal Eulogy | Ian Vargas | June 13, 2006 |
| miss you bud | Diana Garnett | May 9, 2006 |
| Personal Eulogy | Mary Alger | April 28, 2006 |
| Personal Eulogy | Chrissi Cicerelle | April 27, 2006 |
| Personal Eulogy | Jeannette Miller | April 20, 2006 |
| Personal Eulogy | Anne McClain | April 17, 2006 |
| Timmy | Eric Huss | April 14, 2006 |
| Personal Eulogy | Jan McIntyre | April 11, 2006 |
| Personal Eulogy | William Denn Jr. | April 11, 2006 |
| Personal Eulogy | Leonard M. Cowherd II | April 11, 2006 |
| Personal Eulogy | Mandy Nelson | April 11, 2006 |
| Personal Eulogy | Maggie Hobden | April 10, 2006 |
| Personal Eulogy | Ryan Poe | April 10, 2006 |
| Personal Eulogy | Joe Jorgensen | April 10, 2006 |
| Well Done | Billy Wilson | April 10, 2006 |
| Personal Eulogy | linda lange | April 9, 2006 |
| Personal Eulogy | Jessica Giordano | April 10, 2006 |
| Personal Eulogy | Ben | April 8, 2006 |
| Personal Eulogy | Travis Cole | April 8, 2006 |
| Personal Eulogy | anonymous | April 8, 2006 |
| Personal Eulogy | Jim and Donna Killoran | April 8, 2006 |
| Personal Eulogy | Michelle | April 7, 2006 |
| Personal Eulogy | Steve Poe | April 7, 2006 |
| Personal Eulogy | Bill and Jerilyn White | April 7, 2006 |
| Personal Eulogy | Catherine Nielson | April 7, 2006 |
| Personal Eulogy | Harry & Kathy Bruner 08 | April 7, 2006 |
| Personal Eulogy | Jim and Debbie Ross ('08) | April 6, 2006 |
| Personal Eulogy | Paul and Judy Gruver | April 6, 2006 |
| Personal Eulogy | Steve Schweitzer | April 6, 2006 |
| Personal Eulogy | sharon buck | April 6, 2006 |
| Personal Eulogy | Ryan J. Koolovitz | April 6, 2006 |
| Our thoughts and prayers are with you | William Murray Family | April 6, 2006 |
| Personal Eulogy | Shirley Olivieri-Mathies ('05 parent) | April 6, 2006 |
| Personal Eulogy | Molly Reardon | April 5, 2006 |
| Personal Eulogy | Annie Wehri | April 5, 2006 |
| personal condolences | Timothy Oldfield | April 5, 2006 |
| Be thou at peace. | 2002 Mom | April 5, 2006 |
| Personal Eulogy | Jerry Napolitano | April 5, 2006 |
| Personal Eulogy | Adam C. Springer | April 5, 2006 |
| Personal Eulogy | Mr & Mrs Michael W Conway | April 5, 2006 |
| Personal Eulogy | CPT Andrea So | April 5, 2006 |
| Personal Eulogy | Stephen Anderson | April 5, 2006 |
| Personal Eulogy | Van der Steen Family | April 5, 2006 |
| Personal Eulogy | Sharon & Randy Rumbelow ( '04 parents) | April 5, 2006 |
| Personal Eulogy | EARNEST AND OLINDA SMITH | April 4, 2006 |
| Personal Eulogy | dorann lucas | April 4, 2006 |
| Personal Eulogy | Pam & Dennis Desilets '04 parents | April 4, 2006 |
| Personal Eulogy | Ken and Joan Rainis | April 4, 2006 |
| Personal Eulogy | Don & Theeranee Schmidt - '07 Parents | April 4, 2006 |
| Personal Eulogy | Michael and Carol Rosenbverg | April 4, 2006 |
| Personal Eulogy | Deborah Pullen | April 4, 2006 |
| Personal Eulogy | '09 Parents | April 4, 2006 |
| Personal Eulogy | Jonas and Colleen Tayalor | April 4, 2006 |
| Personal Eulogy | Ed and Denise Powell | April 4, 2006 |
| Personal Eulogy | Paul and Dina Astemborski - 2009 parents | April 4, 2006 |
| Personal Eulogy | Karen Smith | April 4, 2006 |
| Personal Eulogy | Kathryn 08 Parent | April 4, 2006 |
| Personal Eulogy | Larry & Linda Bryant, '02 & '00 Parents | April 4, 2006 |