Click on any eulogy link to view that eulogy.
Click on "Post a new eulogy" to add your own eulogy to Jason.
Other important links:
Jason Benjamin Jones
West Point, 2007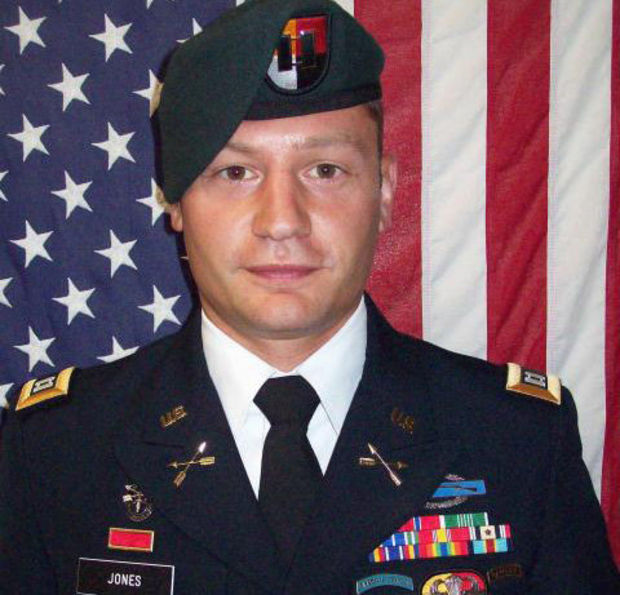 Be Thou At Peace
To date, 81 eulogies have been posted for Jason. Post a new eulogy to share some memories and thoughts that you may have. Additional biographical information may be found on the personal home page.
| Subject | Name | Date Posted |
| --- | --- | --- |
| Memorial Day 2022 | Adam Nordin | May 30, 2022 |
| Memorial Day 2021 | Adam Nordin | May 31, 2021 |
| Memorial Day 2020 | Adam Nordin | May 25, 2020 |
| Memorial Day 2019 | Adam Nordin | May 27, 2019 |
| Memorial Day 2018 | Adam Nordin | May 29, 2018 |
| Personal Eulogy | Jared Sainato | August 8, 2017 |
| Fellow D2 '07, Always Remember | Stephen Hardwick | March 24, 2017 |
| Memorial Day 2016 | Adam Nordin | May 30, 2016 |
| Memorial Day 2015 | Adam Nordin | May 28, 2015 |
| Personal Eulogy | Conrad Jarvis | July 10, 2014 |
| God Bless, Jason | John Gould | June 22, 2014 |
| With broken hearts | Paula and Chip Hubbard | June 16, 2014 |
| Personal Eulogy | Eric Suddarth - USMA '06 | June 12, 2014 |
| Fine Young Man | Carlos del Castillo(Father 1LT Dimitri del Castillo KIA 2011) | June 11, 2014 |
| Personal Eulogy | Mike Meier | June 10, 2014 |
| Personal Eulogy | Mike & Lela Buckley, parents of 2013 grad | June 8, 2014 |
| Personal Eulogy | David & Sherri Perry ('13 grad parents) | June 8, 2014 |
| Personal Eulogy | Bennie Summers, Colonel USMC (ret) | June 8, 2014 |
| Thank you Jay | J D (A16) | June 8, 2014 |
| Condolence | Koeppe Family | June 8, 2014 |
| Deepest Sympathy | Nanette and Jim Reitter | June 7, 2014 |
| Deepest sympathy | Jeff Glick (USMA Class of 2005, D2) | June 7, 2014 |
| Personal Eulogy | Jeff and Sharon Esterman, Parents Class of 2015 | June 7, 2014 |
| sorry for loss | Jerry Napolitano | June 6, 2014 |
| Personal Eulogy | Lonnette Sampson | June 6, 2014 |
| Be thou at peace | Stan Brown (2010) Parent | June 6, 2014 |
| Personal Eulogy | Jeremy A. Brandenburg | June 6, 2014 |
| Personal Eulogy | Katie landis | June 6, 2014 |
| Personal Eulogy | ann johansmeyer | June 6, 2014 |
| Personal Eulogy | Cynthia and Michael Causbie | June 5, 2014 |
| Personal Eulogy | MC '06 | June 5, 2014 |
| Personal Eulogy | Lisa Hetland, Daughter 2014 | June 5, 2014 |
| Personal Eulogy | Gigi Gorman | June 5, 2014 |
| Personal Eulogy | West Point Parents, Class of 2014 | June 5, 2014 |
| Personal Eulogy | Stockwell family | June 5, 2014 |
| Personal Eulogy | Lynn and Bill Knutson | June 5, 2014 |
| Personal Eulogy | Bill Johnson | June 5, 2014 |
| Personal Eulogy | Yani Giraldez | June 5, 2014 |
| With Deepest Sympathy | Brian & Elaine Miller/Parents of 2013 | June 5, 2014 |
| Personal Eulogy | 2010 Dad | June 5, 2014 |
| God be with you | Presley Family '14 | June 5, 2014 |
| Personal Eulogy | Pete and Susan Korellis | June 5, 2014 |
| Personal Eulogy | Charles and Mary Crigger '06 Parents | June 5, 2014 |
| Personal Eulogy | The Peterson Family | June 5, 2014 |
| Personal Eulogy | Parents of 2011 & 2014 | June 5, 2014 |
| Personal Eulogy | Mike and Heather Worthington | June 5, 2014 |
| Personal Eulogy | Stephan & Nancy Murphy - Parents USMA 2013 | June 5, 2014 |
| Personal Eulogy | The Prieto Family - Classof 2012 | June 5, 2014 |
| Personal Eulogy | Jeanette Grayeb-Mihal | June 5, 2014 |
| Personal Eulogy | Catherine Brod USMA'11 Mom | June 5, 2014 |
| Personal Eulogy | Mary & Mike Conway '06 Parents | June 5, 2014 |
| Personal Eulogy | Swoope family 09 | June 5, 2014 |
| Personal Eulogy | Markey family, Class of 2017 | June 5, 2014 |
| Personal Eulogy | Pritchett Family | June 5, 2014 |
| Personal Eulogy | Brian Moretti | June 5, 2014 |
| Personal Eulogy | CPT Peterson | June 5, 2014 |
| Personal Eulogy | Lowe Family, Class of 2013 | June 5, 2014 |
| Personal Eulogy | Darlene Foreman | June 5, 2014 |
| Personal Eulogy | Kearns Family | June 5, 2014 |
| Personal Eulogy | Jo-Ann Gradzik | June 5, 2014 |
| Personal Eulogy | Strimel Family, 2013 | June 5, 2014 |
| With deepest sympathy | Stacey Locher - 2011 USMA parent | June 5, 2014 |
| Personal Eulogy | Carl and Gigi Sanders | June 5, 2014 |
| With Deepest Sympathy | The Taylor Family | June 5, 2014 |
| With Deepest Sympathy | Joyce Kearn | June 5, 2014 |
| deepest sympathy | Barbara Perretti mom of cadet Theodore Perretti 2017 | June 5, 2014 |
| Personal Eulogy | Ed and Tracie Reed | June 5, 2014 |
| Personal Eulogy | Daniel and Caroline Mengon | June 4, 2014 |
| Personal Eulogy | Eldridge, Class of 2015 | June 4, 2014 |
| Personal Eulogy | Matthew Sherburne, '07 | June 4, 2014 |
| Personal Eulogy | Michele Swicegood | June 4, 2014 |
| Personal Eulogy | Cyndi Mosk | June 4, 2014 |
| Personal Eulogy | Stephen Mooradian | June 4, 2014 |
| Personal Eulogy | Mayeaux family | June 4, 2014 |
| Personal Eulogy | Mike and Sharon Spears, son in USMA 2010 | June 4, 2014 |
| Personal Eulogy | Cari Ritchey USMA '14 mom | June 4, 2014 |
| Personal Eulogy | COL Edward P. Naessens | June 4, 2014 |
| With deepest sympathy | Harry C. Bruner, Jr. | June 4, 2014 |
| Personal Eulogy | Ben Faw | June 4, 2014 |
| Personal Eulogy | Chris Hostler, '07 | June 4, 2014 |
| Personal Eulogy | Robert Tackett | June 4, 2014 |