Click on any eulogy link to view that eulogy.
Click on "Post a new eulogy" to add your own eulogy to Joe.
Other important links:
Joe Lusk
West Point, 2001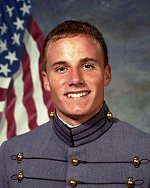 Be Thou At Peace
To date, 90 eulogies have been posted for Joe. Post a new eulogy to share some memories and thoughts that you may have. Additional biographical information may be found on the personal home page.
| Subject | Name | Date Posted |
| --- | --- | --- |
| 16 years | Fred Schwark | January 21, 2021 |
| 12 years | Fred Schwark | January 21, 2017 |
| 10-years | Fred Schwark | January 21, 2015 |
| I remember... | Fred Schwark | January 21, 2014 |
| Personal Eulogy | Josh B | May 24, 2013 |
| Personal Eulogy | Fred Schwark | January 21, 2013 |
| 6 Years | Mike Costanzo | January 21, 2011 |
| Personal Eulogy | JASON RIVERA | July 11, 2010 |
| 5 years, unreal | Mike Costanzo | January 21, 2010 |
| Personal Eulogy | Dan | October 29, 2009 |
| Personal Eulogy | e | January 28, 2008 |
| Personal Eulogy | e | January 28, 2008 |
| 3 years | Mikey | January 21, 2008 |
| West Coast | Alex Brown | September 5, 2007 |
| Personal Eulogy | PFC Kevin Bartley | June 17, 2007 |
| Miss you, Joe | erin | May 18, 2007 |
| Solider | Joe D. Lusk | October 22, 2006 |
| Personal Eulogy | Casey Terrell | December 28, 2005 |
| Personal Eulogy | Keith Tully | December 18, 2005 |
| My friend | Fred Schwark | December 16, 2005 |
| Personal Eulogy | Roy May | May 31, 2005 |
| Personal Eulogy | Andrew Zimmerle | March 10, 2005 |
| Personal Eulogy | Antonio Buehler | March 10, 2005 |
| A missing piece... | Jason Barr | March 6, 2005 |
| A Good Friend and Fellow Gun Pilot | Joe Minor | February 16, 2005 |
| condolences | Stephanie Shepard | February 15, 2005 |
| Personal Eulogy | Tommy and Ashley Hellyer | February 15, 2005 |
| Eulogy at Funeral | "Mikey" Costanzo | February 11, 2005 |
| Personal Eulogy | Dave Park | February 10, 2005 |
| Personal Eulogy | Kory Farmer | February 10, 2005 |
| Personal Eulogy | Marisol Chalas | February 8, 2005 |
| Personal Eulogy | Christopher C. Turner | February 8, 2005 |
| Personal Eulogy | Alejandro M. Nunez | February 4, 2005 |
| Personal Eulogy | Rich and Kim Ward | February 3, 2005 |
| Personal Eulogy | Tom Pinder | February 1, 2005 |
| DBT Tribute | Alex Brown | January 31, 2005 |
| Personal Eulogy | Drew Wenzel | January 31, 2005 |
| Personal Eulogy | Santos and Ana Mendoza | January 30, 2005 |
| Tribute | Matt Considine | January 29, 2005 |
| Personal Eulogy | TK | January 29, 2005 |
| Personal Eulogy | David and Vicki Hellyer family | January 28, 2005 |
| Personal Eulogy | Michael and Carol Rosenberg | January 28, 2005 |
| A Platoon Leader and a Friend | Paul Gass | January 28, 2005 |
| Personal Eulogy | Shirley Olivieri-Mathies | January 28, 2005 |
| Personal Eulogy | CW4 Tony DeGusipe | January 28, 2005 |
| A Tribute | Matthew Minear | January 27, 2005 |
| tribute | Julie Sullivan | January 27, 2005 |
| Personal Eulogy | Jeremy Scholtes | January 27, 2005 |
| Personal Eulogy | Tim and Charlene Smith | January 27, 2005 |
| Personal Eulogy | Roger and Dianna Mathews | January 27, 2005 |
| Personal Eulogy | Mike Taylor | January 27, 2005 |
| Personal Eulogy | George Cernat | January 27, 2005 |
| Forever In Our Hearts | Dana Savage | February 4, 2005 |
| Personal Eulogy | Travis Cole | January 26, 2005 |
| Personal Eulogy | LTC (Retired) Eric Zimmerman | January 27, 2005 |
| Personal Eulogy | Michelle Millhof | January 26, 2005 |
| Personal Eulogy | Lloyd Parfait | January 26, 2005 |
| Personal Eulogy | Cassie Taff | January 26, 2005 |
| Personal Eulogy | Trent Cleveland | January 26, 2005 |
| Personal Eulogy | Paul Boethel | January 26, 2005 |
| Personal Eulogy | The Riegel Family | January 26, 2005 |
| Personal Eulogy | Crystan Allan | January 26, 2005 |
| Personal Eulogy | Olivia Zimmerman | January 26, 2005 |
| Personal Eulogy | Randy Boland | January 26, 2005 |
| Personal Eulogy | J.J. Williamson | January 25, 2005 |
| Personal Eulogy | Benjamin Pitts | January 25, 2005 |
| Personal Eulogy | Joe Rodibaugh | January 25, 2005 |
| A tribute... | Adam Heppe | January 25, 2005 |
| Personal Eulogy | Robert and Donna Shelton | January 25, 2005 |
| Personal Eulogy | Harlan Harrison | January 25, 2005 |
| Personal Eulogy | Terri Kaiser | January 25, 2005 |
| Personal Eulogy | Considine Family | January 25, 2005 |
| Personal Eulogy | Mr. & Mrs. Cases | January 25, 2005 |
| Personal Eulogy | Ron & Lynette Pfannensteil | January 25, 2005 |
| Personal Eulogy | Shawn Gundrum | January 25, 2005 |
| Personal Eulogy | Will Fulton | January 25, 2005 |
| Personal Eulogy | Woody Newman | January 25, 2005 |
| Personal Eulogy | Oswaldo Maxwell | January 25, 2005 |
| Personal Eulogy | Jordan Sembower | January 25, 2005 |
| Personal Eulogy | Melissa Bembenek | January 25, 2005 |
| Personal Eulogy | Kyle Randall | January 25, 2005 |
| Personal Eulogy | Erin Stair | January 24, 2005 |
| Personal Eulogy | Jared Cameron | January 24, 2005 |
| Personal Eulogy | Adria Fraser | January 24, 2005 |
| Personal Eulogy | Gene McIntyre | January 24, 2005 |
| Personal Eulogy | Angelo Adams | January 24, 2005 |
| Personal Eulogy | Curt Byron | January 24, 2005 |
| Personal Eulogy | Greg Lee | January 24, 2005 |
| Personal Eulogy | Amir Soofi | January 24, 2005 |
| Personal Eulogy | Article from Local Newspaper | January 23, 2005 |