Click on any eulogy link to view that eulogy.
Click on "Post a new eulogy" to add your own eulogy to Brian.
Other important links:
Brian D. Allgood
West Point, 1982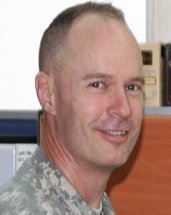 Be Thou At Peace
To date, 105 eulogies have been posted for Brian. Post a new eulogy to share some memories and thoughts that you may have. Additional biographical information may be found on the personal home page.
| Subject | Name | Date Posted |
| --- | --- | --- |
| From your very proud MomPersonal Eulogy | Cleo Allgood | February 6, 2016 |
| Personal Eulogy - Brian's Youth | Scott Lucas | April 27, 2013 |
| Personal Eulogy | Anna M. Ruiz SFC, USA (Ret) | January 22, 2011 |
| Personal Eulogy | COL Robert J. Blok, Sr. | October 11, 2010 |
| Personal Eulogy | Pat Nunes | August 27, 2010 |
| Personal Eulogy | SPC Arturo Contreras | February 22, 2010 |
| Personal Eulogy | LTC Shawn T Lockett | January 25, 2010 |
| Personal Eulogy | SFC (Ret) Curtis S. Youns | November 3, 2009 |
| Personal Eulogy | pat allgood | May 25, 2009 |
| Personal Eulogy | SGT Rene A Rios | May 20, 2009 |
| Personal Eulogy | Bill Atkinson | February 17, 2009 |
| Personal Eulogy | Bruce Bagley | October 3, 2008 |
| Memorial Day, 26 May 2008 | LTC (R) Craig Fox | May 26, 2008 |
| Personal Eulogy | MAJ Tama Grier, MSC, US Army Reserves | November 6, 2007 |
| Personal Eulogy | Ann Secord, CDR Medical Corps, Ret | October 12, 2007 |
| Personal Eulogy | Gloria Abramowitz | September 18, 2007 |
| Personal Eulogy for Brian Allgood | mark sivik | August 3, 2007 |
| Personal Eulogy for Brian Allgood | mark sivik | August 3, 2007 |
| Personal Eulogy | Dr. Benjamin Gilbert, USMA Class of 1983 | March 22, 2007 |
| Personal Eulogy | Terry K Cox, LTC, MS (Retired) | March 21, 2007 |
| Personal Eulogy | LTC Barbara Steers, MSC (Retired) | March 20, 2007 |
| Personal Eulogy | LTC Barbara Steers, MSC (Retired) | March 20, 2007 |
| Personal Eulogy | Captain Thomason | March 3, 2007 |
| Personal Eulogy | MAJ Kevin Cooper | February 9, 2007 |
| Personal Eulogy | 1SG JD Cotham | February 8, 2007 |
| Personal Eulogy | CPT Lee Dougherty | February 8, 2007 |
| Personal Eulogy | Major Van Harl USAF Ret. | February 6, 2007 |
| Personal Eulogy | Pat and Bernadette Ortland | February 5, 2007 |
| Ft. Carson Memorial Service Eulogy | LTC (R) Craig Fox | February 5, 2007 |
| Personal Eulogy | CH (COL) Allen Randy Nabors | February 5, 2007 |
| Personal Eulogy | 1SG (ret) John W. Estorga and family | February 3, 2007 |
| Condolences | Bill & Shannon Roller Family | February 2, 2007 |
| Personal Eulogy | Dave Mason and family | February 2, 2007 |
| Personal Eulogy | SGM Mark A. Cornejo | February 2, 2007 |
| Personal Eulogy | SGM Mark A. Cornejo | February 2, 2007 |
| Personal Eulogy | Major Van Harl USAF Ret. | February 2, 2007 |
| Personal Eulogy | Tom Westfall | February 1, 2007 |
| Personal Eulogy | Hamp and Peggy Hunter | January 31, 2007 |
| Personal Eulogy | BG Steven M. Anderson | February 1, 2007 |
| Personal Eulogy | Carl Weinschenk LTC, MSC (Ret) | January 30, 2007 |
| Personal Eulogy | Colonel Gary B. Wilhelm | January 29, 2007 |
| Personal Eulogy | Mary ('03 and '06 mom) | January 29, 2007 |
| Rest | Major Della King RN AN | January 29, 2007 |
| Personal Eulogy | 1LT Andrew Taylor | January 29, 2007 |
| Personal Eulogy | Ranae Lowe | January 29, 2007 |
| Personal Eulogy | COL(Ret) John Erskine | January 28, 2007 |
| Personal Eulogy | COL David and GLoria Abramowitz | January 28, 2007 |
| Personal Eulogy | CSM(R) Sandra Townsend | January 28, 2007 |
| Personal Eulogy | Jeff Irwin | January 27, 2007 |
| Personal Eulogy | MAJ Michael E. Perry | January 27, 2007 |
| Personal Eulogy | Frank, Marion, and Erika Weston | January 27, 2007 |
| Personal Eulogy | BG Steven M. Anderson | January 26, 2007 |
| Personal Eulogy | Chuck Unruh | January 27, 2007 |
| Personal Eulogy | Rodney Hollifield | January 27, 2007 |
| Personal Eulogy | LTC (R) Benita McLarin Blatcher and family | January 27, 2007 |
| Personal Eulogy | Gerry Nowotny | January 26, 2007 |
| Condolences | Mike Faessler | January 26, 2007 |
| Personal Eulogy | BG Phil Volpe | January 26, 2007 |
| Personal Eulogy | MAJ Geri Robertson | January 26, 2007 |
| Personal Eulogy | CPT Jaime Gonzalez, PT | January 26, 2007 |
| Personal Eulogy | CPT JUDY ELSBURY | January 26, 2007 |
| Personal Eulogy | CPT Shawn M. Flaharty | January 26, 2007 |
| Personal Eulogy | LTC Donna Lupien | January 25, 2007 |
| Personal Eulogy | COL Monica Gorbandt | January 25, 2007 |
| Personal Eulogy | Art Kane | January 25, 2007 |
| Personal Eulogy | COL Rick Waddell | January 25, 2007 |
| Personal Eulogy | COL Art Wallace | January 25, 2007 |
| Personal Eulogy | Loreto P. Biete | January 25, 2007 |
| Personal Eulogy | Matt Prestenberg | January 25, 2007 |
| Personal Eulogy | Dr. Rick Palmer | January 25, 2007 |
| Personal Eulogy | Karl and Erin Gossett | January 25, 2007 |
| Family Condolences | Fred Shambach | January 25, 2007 |
| Personal Eulogy | MSG Christopher L. Jenkins | January 25, 2007 |
| Personal Eulogy | James and Renee Nelson | January 25, 2007 |
| Personal Eulogy | COL Patrick Wilson | January 25, 2007 |
| Personal Eulogy | Matt and Colleen Joosten | January 25, 2007 |
| Personal Eulogy | LTC Arthur C. Savignac , (ret.) and family | January 25, 2007 |
| Personal Eulogy | CPT Jankowski | January 25, 2007 |
| Personal Eulogy | SGM Pamela A. Neal- MNF-I Chaplain SGM | January 25, 2007 |
| Personal Eulogy | SGM Pamela A. Neal, MNF-I Chaplain SGM | January 25, 2007 |
| Personal Eulogy | LTC Rex A. Berggren and Family | January 25, 2007 |
| Personal Eulogy | E. Pat Bynum | January 25, 2007 |
| Personal Eulogy | 1LT Michelle Vacho | January 25, 2007 |
| Personal Eulogy | COL Keith & Sandra Gallagher | January 24, 2007 |
| Personal Eulogy | COL Laurie Hummel | January 24, 2007 |
| Personal Eulogy | Octavio Cesar Mont | January 24, 2007 |
| Personal Eulogy | LTC Jaschen | January 24, 2007 |
| Personal Eulogy | LTC Steve Jarrard | January 24, 2007 |
| Personal Eulogy | Pam & Dennis Desilets | January 24, 2007 |
| Personal Eulogy | John & Mary Francis | January 24, 2007 |
| Personal Eulogy | MAJ Jamie Ulmer | January 24, 2007 |
| Personal Eulogy | Dave Kumlien | January 24, 2007 |
| Personal Eulogy | Annie Fawley | January 24, 2007 |
| Personal Eulogy | SFC Ruben Colon | January 24, 2007 |
| Personal Eulogy | Dr. Rick Lippin | January 24, 2007 |
| Personal Eulogy | Thomas Little | January 24, 2007 |
| Personal Eulogy | Lawrence Ross Moody, Sr. | January 24, 2007 |
| Personal Eulogy | Jerry Napolitano | January 24, 2007 |
| Personal Eulogy | COL Paul Calbos, Kathy, Cadet Nick (USMA '09), and Christa Calbos | January 24, 2007 |
| Personal Eulogy | Jim Bowen | January 23, 2007 |
| Personal Eulogy | Mark Tillman | January 27, 2007 |
| Personal Eulogy | COL and Mrs. Jim Polo | January 23, 2007 |
| Personal Eulogy | Bill Landefeld | January 23, 2007 |
| Personal Eulogy | COL Mike Pasquarella | January 23, 2007 |
| Personal Eulogy | COL and Mrs Steve Swann | January 23, 2007 |