Click on any eulogy link to view that eulogy.
Click on "Post a new eulogy" to add your own eulogy to Laura.
Other important links:
Laura Margaret Walker
West Point, 2003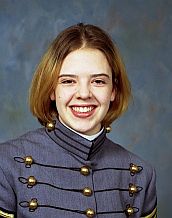 Be Thou At Peace
To date, 218 eulogies have been posted for Laura. Post a new eulogy to share some memories and thoughts that you may have. Additional biographical information may be found on the personal home page.
| Subject | Name | Date Posted |
| --- | --- | --- |
| Personal Eulogy | Teresa | May 21, 2018 |
| Peace & God Bless | Gary & Sandy | March 12, 2018 |
| Personal Eulogy | Tanya Kabel-Ballard | December 21, 2016 |
| Personal Eulogy | Thomas | August 18, 2016 |
| Personal Eulogy | April Kimble | November 7, 2015 |
| We Miss You. | Andrew Weist | October 13, 2015 |
| Personal Eulogy | Teresa | May 25, 2015 |
| Personal Eulogy | Donna | May 25, 2015 |
| Personal Eulogy | sabato d'amico | December 30, 2014 |
| Personal Eulogy | Jim Arnold | October 29, 2014 |
| Personal Eulogy | Teresa | August 18, 2014 |
| Personal Eulogy | Ruby Irene | August 18, 2014 |
| Happy Birthday | Jared Marn | June 18, 2014 |
| To Lt. Walker | Roger Jimenez Jr. | May 26, 2014 |
| Memorial Day | Matt Schwind | May 26, 2014 |
| Personal Eulogy | Teresa | April 15, 2014 |
| Happy birthday! | Kate | June 16, 2013 |
| To a Great American | Patricia Marseglia | March 2, 2013 |
| Personal Eulogy | Kate Mitchell | September 5, 2012 |
| Miss You | Jim Jasoner | August 18, 2012 |
| Way back from GHS | Ragnar "Ace" Jamieson | June 1, 2012 |
| Personal Eulogy | 2013 Mother | May 28, 2012 |
| Beautiful Angel | Anthony Carollo | December 23, 2011 |
| still with us | Nick Seidel | October 26, 2011 |
| In gratitude | Andrea | August 20, 2011 |
| Six Years - Missing You | Jim Jasoner | August 18, 2011 |
| 6 Years, and I'm sorry | Sara Warner | August 18, 2011 |
| Personal Eulogy | Jerry L Crosby, Sr, of Arizona | May 19, 2011 |
| Personal Eulogy | Tamara Fischer-Carter | February 22, 2011 |
| HERO bracelette | Peggy A. Andersen | February 11, 2011 |
| Miss you | Dr. Omar I. Velez | August 19, 2010 |
| Five | Jack | August 18, 2010 |
| Five years | Kate Purchase | August 18, 2010 |
| Five Years - Miss You | Jim Jasoner | August 17, 2010 |
| Hello Larua | Mary Jane Melcher | August 16, 2010 |
| Afghanistan nearly 5 years later | Duncan Walker | July 19, 2010 |
| Personal Eulogy | Hope | May 31, 2010 |
| Personal Eulogy | Cody Reynolds | May 31, 2010 |
| Personal Eulogy | Dave Arnold | May 28, 2010 |
| Personal Eulogy | Jenny K. Hartsock | February 8, 2010 |
| Personal Eulogy | Teresa | February 5, 2010 |
| Four Years | Jim Jasoner | August 17, 2009 |
| Personal Eulogy | Susan Wennerbom | June 16, 2009 |
| Personal Eulogy | Michael iezzi | May 13, 2009 |
| Personal Eulogy | Jennifer Agnew | February 16, 2009 |
| Personal Eulogy | Tim Holleyman | December 16, 2008 |
| Personal Eulogy | Bill | December 15, 2008 |
| god bless you.. | Ricardo Altamirano Duarte | October 23, 2008 |
| I Miss You | Jim Jasoner | August 17, 2008 |
| Three years | Dr. Omar I. Velez | August 17, 2008 |
| True Leader and American Hero | Anthony Carollo | July 29, 2008 |
| Personal Eulogy | Kate | June 16, 2008 |
| Personal Eulogy | Bill L | May 16, 2008 |
| Personal Eulogy | Hilary | April 30, 2008 |
| Just a memory or two | MAJ Patrick Burke | January 16, 2008 |
| Merry Christmas Laura. | Dr Omar Velez | December 26, 2007 |
| To Laura | Mona Pelkey | December 16, 2007 |
| Personal Eulogy | Jenny Kirk | December 14, 2007 |
| We miss you | Dr. Omar I. velez | September 24, 2007 |
| Never far from my thoughts | Thomas | September 12, 2007 |
| Personal Eulogy | Kate Fleming | August 18, 2007 |
| Two Years | Jim Jasoner | August 18, 2007 |
| Personal Eulogy | lyndsey | July 1, 2007 |
| Personal Eulogy | Sandra | June 22, 2007 |
| Happy Birthday Laura | Kate Fleming | June 16, 2007 |
| Personal Eulogy | Ilker Baburoglu | May 20, 2007 |
| Personal Eulogy | Louise | May 13, 2007 |
| We will NEVER FORGET | Sandi Breckenridge / MT | May 9, 2007 |
| Personal Eulogy | Jenny Kirk | April 21, 2007 |
| Personal Eulogy | Rana Asghar | November 22, 2006 |
| Personal Eulogy | Rev. Scott M. Stevenson | November 2, 2006 |
| Personal Eulogy | Todd Bayles | October 27, 2006 |
| Personal Eulogy | kirk | October 22, 2006 |
| Personal Eulogy | Mary - 2003 mom | October 9, 2006 |
| We will never forget | Dr. Omar I. V?z | August 21, 2006 |
| Personal Eulogy | lyndsey | August 18, 2006 |
| Personal Eulogy | C Hill | August 18, 2006 |
| A Year Gone By | Mary Jane Melcher | August 12, 2006 |
| Personal Eulogy | Margaret Westmoreland Richards | June 22, 2006 |
| Happy Birthday | lyndsey | June 16, 2006 |
| Happy Birthday Laura! | Kate Fleming | June 16, 2006 |
| Rembering Laura | Anna Fajardo | May 8, 2006 |
| "And Your Memory Shines Like the Morning Star" | Andy Jurcak | May 2, 2006 |
| Personal Eulogy | Lyndsey | April 30, 2006 |
| Personal Eulogy | Frank Titus | March 23, 2006 |
| Personal Eulogy | PFC Christopher Day | March 9, 2006 |
| From her Club Beyond leader | Jen Harman | February 24, 2006 |
| The Nicest Person I Ever Met | Henrietta Rocha Juarez | January 22, 2006 |
| Personal Eulogy | Col (Ret) Mike Thiel | January 9, 2006 |
| High School Friend | Dr. Omar I. Velez | January 2, 2006 |
| Personal Eulogy | Hilary (Palumbo) Goodyear | December 14, 2005 |
| Personal Eulogy | Joe Kirwin | December 8, 2005 |
| Personal Eulogy | erwin | November 26, 2005 |
| Personal Eulogy | TAREEN | November 13, 2005 |
| Personal Eulogy | Kate 08 Parent | November 9, 2005 |
| Special Person | Ed Napier | October 24, 2005 |
| Why Smirk Off?? | Mary St. Onge, '02 | October 19, 2005 |
| Personal Eulogy | Susan Nunnally | October 19, 2005 |
| Personal Eulogy | Chris | October 18, 2005 |
| Personal Eulogy | 1LT Maria Duran | October 14, 2005 |
| Personal Eulogy | Jeff Engilsh | October 7, 2005 |
| Personal Eulogy | Kevin Sulivan | September 29, 2005 |
| Personal Eulogy | Kathy Lynn | September 25, 2005 |
| Who Dies? | Gordon Livingston | September 25, 2005 |
| Special Eulogy | Allen Alovis | September 24, 2005 |
| Cut short in life | Didi Bey | September 23, 2005 |
| moved by her obituary | Bonnie Lee Bryant, Ph.D. | September 22, 2005 |
| Personal Eulogy | Matthew Cohen | September 22, 2005 |
| From a South Dakota Cousin | Mary Jane Melcher | September 20, 2005 |
| Personal Eulogy | CPT Kristen Lewis | September 12, 2005 |
| Personal Eulogy | Jamie Pagatpatan-Cortez | September 10, 2005 |
| Personal Eulogy | CSM(R) Rick S. Russell | September 8, 2005 |
| Personal Eulogy | melanie | September 7, 2005 |
| her smile | Bill Nguyen | September 6, 2005 |
| Personal Eulogy | 1LT Leigh Carlton Gust | September 6, 2005 |
| Personal Eulogy | Courtney and Buck Waid | September 4, 2005 |
| Personal Eulogy | rich | September 4, 2005 |
| Personal Eulogy | Tara (Munley) Kaiser | September 4, 2005 |
| Personal Eulogy | '01 Mom | September 3, 2005 |
| Laura's Life Lesson | Record Family of 1 Lt Brandi Record '03 | September 2, 2005 |
| A Soliders Death is not Tragic | Philip Castaneda | September 2, 2005 |
| Personal Eulogy | Sunny Chen | September 1, 2005 |
| Personal Eulogy | ann johansmeyer | September 1, 2005 |
| Personal Eulogy | Maria T. Looney | August 31, 2005 |
| Personal Eulogy | Wes Pierce '03 | August 31, 2005 |
| Personal Eulogy, Fort lewis services for Laura | janet walker | August 31, 2005 |
| Personal Eulogy | Nancy '03 CA Mom | August 31, 2005 |
| Personal Eulogy | '03 Mother | August 30, 2005 |
| Personal Eulogy | Walter Seely | August 30, 2005 |
| Personal Eulogy | Jesse Prince | August 29, 2005 |
| Personal Eulogy | Col (ret) Steve Shambach | August 29, 2005 |
| Personal Eulogy | Captain Wendell and Nancy Kopish | August 29, 2005 |
| Personal Eulogy | Robert and Gloria Looney | August 29, 2005 |
| My Laura | lyndsey sharp | August 27, 2005 |
| Personal Eulogy | 1LT Matthew Schwind | August 27, 2005 |
| Personal Eulogy | Kirklin & Amber Bateman | August 26, 2005 |
| Personal Eulogy | Logan Gallagher | August 26, 2005 |
| Personal Eulogy | Dee Mother 2003 Grad | August 26, 2005 |
| Personal Eulogy | Sue Feighner Singleton | August 26, 2005 |
| Personal Eulogy | Blake Myers | August 26, 2005 |
| Personal Eulogy | Col (Ret) Ron Smith, USMA 1975 | August 26, 2005 |
| Personal Eulogy | Milton Duran | August 25, 2005 |
| Personal Eulogy | Les Craig | August 25, 2005 |
| Personal Eulogy | Bob and Shelly Caslen | August 25, 2005 |
| Personal Eulogy | Jean M. Martini | August 25, 2005 |
| Personal Eulogy | Brandon Ritz | August 25, 2005 |
| Personal Eulogy | Brittany Meeks | August 25, 2005 |
| Personal Eulogy | Bridgette Toles | August 25, 2005 |
| Personal Eulogy | Beverly Krainin | August 25, 2005 |
| Tribute in honor | Peter McIlvaine Hall, USMA '63 | August 25, 2005 |
| Personal Eulogy | Murray Family | August 25, 2005 |
| Personal Eulogy | Marie Cribari Grateful American | August 25, 2005 |
| Personal Eulogy | Kathryn and Kevin Lee | August 25, 2005 |
| Personal Eulogy | 1LT Matthew D. Ziobro | August 25, 2005 |
| Personal Eulogy | Leonard M. Cowherd II | August 25, 2005 |
| Personal Eulogy | Laura Weimer | August 25, 2005 |
| Personal Eulogy | Nathan Kim | August 25, 2005 |
| Personal Eulogy | Bill & Sharon Buck, LT Mark Buck | August 25, 2005 |
| Personal Eulogy | John and Elaine Zavage | August 25, 2005 |
| Personal Eulogy | LTC David and Cheryl Patten | August 25, 2005 |
| Personal Eulogy | Monique Chetcuti | August 24, 2005 |
| Personal Eulogy | COL (Ret) Sammie & Carol Haskin | August 25, 2005 |
| Personal Eulogy | Pam & Dennis Desilets | August 24, 2005 |
| Personal Eulogy | Nancy Carreon | August 24, 2005 |
| Personal Eulogy | Anthony and Gina Fuscellaro | August 24, 2005 |
| Personal Eulogy | John C. McNerney | August 24, 2005 |
| Personal Eulogy | Chris Ostrander | August 24, 2005 |
| Personal Eulogy | Selena Allen | August 24, 2005 |
| Personal Eulogy | Charles E. Jones | August 24, 2005 |
| Personal Eulogy | adrienne sommers | August 24, 2005 |
| Personal Eulogy | Mary Tobin | August 24, 2005 |
| Personal Eulogy | ELLEN MORGENSTERN | August 24, 2005 |
| Personal Eulogy | Janey Foust | August 24, 2005 |
| Personal Eulogy | Karen Smith | August 24, 2005 |
| Personal Eulogy | Paul Bublis | August 24, 2005 |
| Personal Eulogy | SUSAN NICKEL- JOEY NICKELS MOM 03 GRAD | August 24, 2005 |
| Personal Eulogy | Curtis Jones | August 24, 2005 |
| Personal Eulogy | Vanessa Hedrick | August 24, 2005 |
| Personal Eulogy | Kate Mitchell | August 24, 2005 |
| Personal Eulogy | MAJ Craig Whiteside | August 24, 2005 |
| Personal Eulogy | Patrick Sullivan | August 24, 2005 |
| Personal Eulogy | Andy Erickson | August 24, 2005 |
| Personal Eulogy | Andrea Baker | August 23, 2005 |
| Personal Eulogy | Jesse Dunn | August 23, 2005 |
| Personal Eulogy | Whitney Hall | August 23, 2005 |
| Personal Eulogy | Joann Johannes | August 23, 2005 |
| Personal Eulogy | Bob & Sherry Hall | August 23, 2005 |
| Personal Eulogy | Kate Purchase Fleming | August 23, 2005 |
| Personal Eulogy | Sean J. Quinn | August 23, 2005 |
| Personal Eulogy | Janaia Nash | August 23, 2005 |
| Personal Eulogy | Vanessa Stolzoff | August 23, 2005 |
| Personal Eulogy | Rob Beale | August 23, 2005 |
| Personal Eulogy | Debbie Pullen | August 23, 2005 |
| Personal Eulogy | Sandra Skelton | August 23, 2005 |
| Personal Eulogy | Sharon & Randy Rumbelow-parents of 2004 Grad. | August 23, 2005 |
| Personal Eulogy | John - Cadet's Dad 2007 | August 23, 2005 |
| Personal Eulogy | Jason Woodward | August 23, 2005 |
| Personal Eulogy | Dennis D. Scott | August 23, 2005 |
| Personal Eulogy | Martha | August 23, 2005 |
| Personal Eulogy | Murd | August 23, 2005 |
| Personal Eulogy | Andrea Leaman | August 23, 2005 |
| A Great Friend and a Great Loss | Erich Atkins | August 23, 2005 |
| Personal Eulogy | 1LT Olivia Zimmerman | August 23, 2005 |
| Personal Eulogy | Andrew Rutan | August 22, 2005 |
| Personal Eulogy | Amy Kemp | August 22, 2005 |
| Personal Eulogy | Isaac Erbele | August 22, 2005 |
| Personal Eulogy | Stephen Hays | August 22, 2005 |
| Personal Eulogy | Jessica Fiddes | August 22, 2005 |
| Personal Eulogy | COL(ret) Terry Pierce | August 22, 2005 |
| Laura's Former USMA TAC | MAJ Tanya Kabel Ballard | August 22, 2005 |
| Personal Eulogy | Paula Burger | August 22, 2005 |
| Personal Eulogy | Lindsley and Bill Harner | August 22, 2005 |
| Personal Eulogy | Steve and Anita Schweitzer | August 22, 2005 |
| Personal Eulogy | Dina - parent o f 2009 cadet | August 22, 2005 |
| Personal Eulogy | mimi and manny | August 22, 2005 |
| Personal Eulogy | Veronica | August 22, 2005 |
| Personal Eulogy | Deborah Nifong | August 22, 2005 |
| True Friend | Enoch Kimmel | August 22, 2005 |